What to Stream on Netflix, Amazon, and Hulu This Weekend: World War II Men on a Mission Movies
A Burt Lancaster actioner and a documentary about the Monuments Men.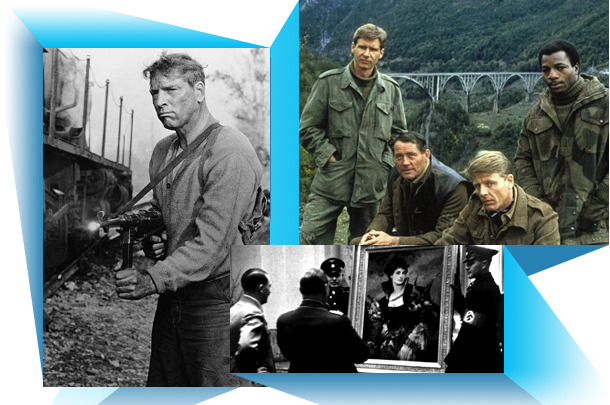 This weekend, as you search for a movie to watch, you can either check out The Monuments Men or pick one of approximately 14 billion options available on streaming over a variety of services, be it Netflix, Hulu, Amazon, On Demand, or rental sites and services. Every Friday, Vulture tries to make life easier by narrowing it down to a handful of heartily recommended options. This week, we're salvaging the best of men-on-a-mission WWII movies, including a documentary on the story that inspired George Clooney's latest.
The Train
Days into shooting The Train, star Burt Lancaster ousted director Arthur Penn (of Bonnie and Clyde fame) and recruited his Seven Days in May collaborator John Frankenheimer. Penn's take on the material — the true-ish World War II story of a railman's efforts to foil a Nazi plot to ship stolen art out of France — was a bit too stuffy for Lancaster, ruminating on the value of priceless paintings versus the lives of men. Lancaster wanted more action. Frankenheimer obliged. Like a black-and-white, war-torn Unstoppable, The Train sports shoot-outs, plane attacks, train collisions, and general badassery from Lancaster, who, at 50, still did his own stunts. The underlying theme pursued by Penn is still intact — Lancaster's Labiche is resistant to the idea of putting lives on the line for the sake of art, but when the train leaves the station, it's a balls-to-the-wall caper propelled by Paul Scofield's smarmy Colonel Franz von Waldheim and the leading man's brute charisma. (Available to rent on iTunes, Vudu, Xbox Video)
Force 10 from Navarone
I can imagine being unimpressed with Goldfinger director Guy Hamilton's quasi-sequel to The Guns of Navarone when it hit theaters in 1978. The film is cobbled together from war-movie clichés ("Blow up the bridge, team!") and silly plot twists. Force 10 from Navarone gets the job done, cinematically speaking. But 30 years later, it gains an additional layer of charm courtesy of its aging cast. It's not just about an American sabotage unit taking down German-controlled Chetniks, it's about young Harrison Ford, Robert Shaw, and a knife-fighting Carl Weathers taking down German-controlled Chetniks (specifically, Django himself, Franco Nero). Hamilton can't quite push Ford to Indiana Jones levels of in-over-his-head mayhem, but he's close. Think of Force 10 from Navarone as a time capsule and there's plenty to find inside. (Available on Amazon Prime, to rent on iTunes, Amazon, Vudu, Google Play)
Kelly's Heroes
Michael Bay, take note: Brian G. Hutton's 1970 war film is a lesson in how to use wall-to-wall explosions to enhance drama, not just for spectacle's sake. The comedically inclined World War II heist drama stars Clint Eastwood, Telly Savalas, Don Rickles, and Donald Sutherland as a ragtag team of soldiers who stumble upon a German bank loaded with $16 million worth of gold bars. To retrieve it, the platoon must sneak away from their duties and fight their way through enemy territory. Greed overshadows the risk of death. Despite the obvious moral complications of Kelly's Heroes (likely spurred by Vietnam sentiments), there are few casts as devilishly good as Hutton's; Eastwood's still the gruff straight man, Sutherland is a beacon of counterculture amongst the 1944 backdrop, and All in the Family's Carroll O'Connor shows up halfway through as an overly aggressive general who thinks he has a band of proactive soldiers on his hand. Hutton pairs the bickering characters with jaw-dropping destruction. By the end credits, one wonders if there were any buildings left in Europe to blow up. (Available on Amazon Prime, to rent on iTunes, Amazon, Vudu, Xbox Video)

The Rape of Europa
Based on a book of the same name, this documentary narrated by Joan Allen explores the true story behind The Monuments Men. The Nazi obsession with art runs deep — there's an insinuation  that Adolf Hitler's obsession with ethnic cleansing may have been fueled by rejection from art school. What started as legal purchasing and buying of art became a plundering operation, prompting Allied forces to push back against the Axis and recover stolen art. What The Rape of Europa lacks in Burt Lancaster tearing through Nazis it makes up for with dense information. There are so many sides to World War II; Rape of Europa stands as a comprehensive examination of one of them. (Available on Netflix, Hulu)
The Dirty Dozen (iTunes, Vudu, Amazon, Xbox Video)
The Eagle Has Landed (Amazon)
My Way (Netflix, iTunes, Vudu, Google Play)
Saving Private Ryan (iTunes, Vudu, Amazon, Xbox Video)
Victory (Amazon Prime, iTunes, Vudu, Xbox Video)
Where Eagles Dare (iTunes, Vudu, Amazon, Xbox Video)