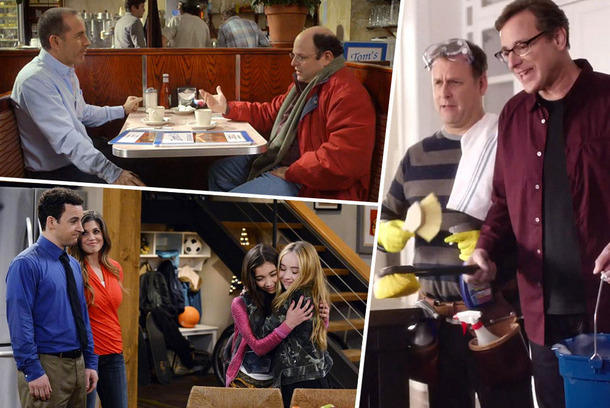 Which Type of TV-Show Reunion Works Best? Let Us Rank Them for You
Television-show reunions can be such a mixed blessing. On the one hand, you get to see actors from your favorite shows getting together again to discuss, relive, or allude to plots and characters you know by heart. It's fun (in a nostalgic way that is practically impossible to avoid)! On the other, the perfectly crafted TV experience that caused you to fall in love with the show in the first place? Easily destroyed by the real-life decisions of its actors. The Olsen Twins don't move heaven and earth to attend a Full House reunion BBQ?* How dare they ruin the visuals! So, there's a fine line between celebrating and ruining a television show, and we aim to determine what it is by ranking the ways reunions tend to play out, from least fun to most fun. Showrunners, write this down.
Note: We realize that shows often reunite multiple times (for various anniversaries, publicity opportunities, etc.), and with various versions of cast and crew (see The X-Files in 2013). This is about how they reunite, not who's reuniting, and lots of shows have fallen into several categories since their series finales.
Reuniting for a movie. With the Veronica Mars movie not too far off, there's definitely a chance that we'll be proven wrong, but generally television shows that are made into full-length films (even if they're made-for-TV films) are often disappointing. Take Sex and the City, which, despite getting enough love to warrant a sequel film, totally tainted the original series. Or the X-Files movies, the first of which was just okay, and the second of which was terrible. But! If the show was bad to begin with, like Entourage, then it's pretty much a no-brainer that the movie will be just as bad, if not worse. Stay tuned.
Reuniting in a guest-starring role on your former castmate's new TV show.
This strategy is by far the most popular: This New Year alone already has news that Jeffery Tambor will appear on Will Arnett's The Millers, Matthew Perry will do Courteney Cox's Cougar Town, and Pam Dawber will guest on Robin Williams's The Crazy Ones. Tomorrow, Cheers's George Wendt will join former castmates Rhea Perlman and Kirstie Alley on Kirstie. It's a popular approach because this situation benefits both parties, and often those two are playing completely different characters than the ones you know them for. It's a completely fresh slate, and often satisfying (especially if the writers throw in a few wink-wink jokes that reference the actors' original roles).
Reuniting for the pages of that annual Entertainment Weekly reunion issue.
Why is this so high? Because if your favorite show's cast members reunite solely as static images in Entertainment Weekly's annual reunion issue, there is little chance they'll disappoint you. This year, the magazine had gorgeous pictures of the casts of The X-Files, Frasier, and Boy Meets World. Last year: The Larry Sanders Show, St. Elsewhere, and Melrose Place. This satisfies the "Where are they now?" part of your brain, free of the possibility of anyone saying something dumb or corny.

Reuniting on a reunion panel.
You can thank the Paley Center for Media (and Comic-Con, somewhat) for making TV-reunion panels a thing, but here we are, with so many to choose from. This year's PaleyFest will have a tenth anniversary Lost reunion, likely featuring much of the cast and writer-creators, J.J. Abrams, Damon Lindelof, and Carlton Cuse. SF Sketchfest has also had various reunions in recent years — last year's included Party Down and Futurama. The "officialness" of a panel can often draw much more of the cast than other reunion situations and most important, it often involves audience questions.
Reuniting for (or on) a spinoff TV show.
There are some great TV spinoffs: Angel, Laverne & Shirley, The Hills, Family Matters, Frasier ... But there are also some awful ones (Joey), ones we're still not so sure about (Private Practice), and ones that already seem to have too much hype to actually be good. (Looking directly at you, Girl Meets World.) The problem here is that actors are playing the characters they played on the original beloved show and the odds are severely against their success.
This is always a good idea:
* This post originally incorrectly stated that the Full House reunion was done for an Entertainment Weekly reunion issue. It was not, it was a personal party.

Photo: Crackle, Dannon, Eric McCandles/Disney