Here Are The Best Performances From the 2014 BRIT Awards, Including Beyoncé's 'XO'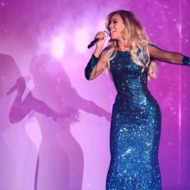 In case you missed yesterday's BRIT Awards (which is likely, as it was only live-streamed in the U.S.), there were several performances of note. There were also plenty of artists you've probably never heard of (John Newman, Chloe Howl, Ella Eyre, Tom Odell, Jake Bugg, Rudimental — look them up!), and so many moments that will make you realize that, yes, England does have slightly better music taste than us. If you missed any of it, we can tell you that (1) Beyoncé was there; and (2) Brits also adore Pharrell. Here were the best moments.
Lorde and Disclosure did an amazing remix of "Royals," with the boys backing her up from behind a giant Disclosure-ized version of her face. It made "Royals," a song we're all borderline sick of hearing, interesting again. AlunaGeorge mixed themselves into the performance, appearing to do "White Noise" as Lorde took off. (See what I mean about the BRITs being super cool?)
Pharrell and Nile Rodgers performed a mega-medley of "Get Lucky," "Good Times," and "Happy."
Kate Moss, introduced by Noel Gallagher, accepted an award on behalf of David Bowie (Gallagher: "You maniacs didn't think David Bowie was actually going to be here? David Bowie's too cool for that, he doesn't do this shit."). She wore a Ziggy Stardust rabbit onesie and passed along Bowie's statement on the current conversation surrounding Scotland's independence ("Scotland, stay with us").
Guess who won Best Album? The Arctic Monkeys. Yes, that band. They're still huge in England, so lead singer Alex Turner gets to drop the mic.
Photo: Karwai Tang/WireImage