Cate Blanchett Addresses Woody Allen Sexual Abuse Accusations
The evening after Dylan Farrow's New York <em>Times </em>piece was published.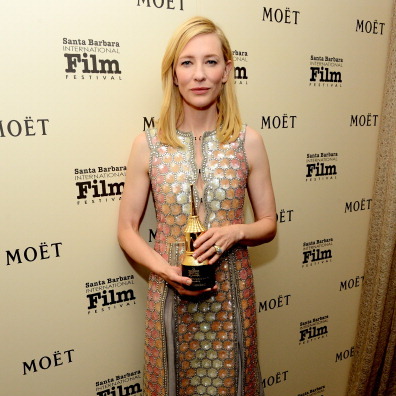 While at Santa Barbara International Film Festival to accept the Outstanding Performer of the Year prize for her role in Blue Jasmine, Cate Blanchett was asked about Dylan Farrow's most recent accusations against her adoptive father, Woody Allen. On Saturday, Farrow published an open letter in the New York Times in which she calls out the stars of some of Allen's films (including Blanchett) for turning a blind eye to her longstanding charge that Allen sexually abused her when she was a child. In response to a question about the situation from Jeffrey Wells of Hollywood-elsewhere.com, Blanchett, who is nominated for a Best Actress Oscar for her role in Allen's latest film, said simply, "It's obviously been a long and painful situation for the family and I hope they find some resolution and peace." Not the most substantive response, but good enough for the red carpet.