Bravo Orders First Scripted Series
Perhaps the most Bravo-sounding scripted series of all time.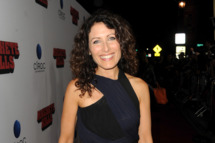 Bravo is taking a brave-o leap into scripted … no, sorry, that was terrible. Forget that ever happened. Bravo has ordered thirteen episodes of its first-ever scripted series Girlfriends' Guide to Divorce. The show focused on a newly separated self-help author and the divorced friends who guide her back into singledom. The show stars Lisa Edelstein, Janeane Garofalo and Beau Garrett, while Carrie Fisher cameos in the pilot. Now just think about how hard Bravo would have to blow this in order for that premise and those actors not to appeal to Bravo viewers. Don't think too long though, or your mind will be boggled.