Ghostbusters III to Be Reworked Following Harold Ramis's Death
Dr. Spengler will no longer cameo.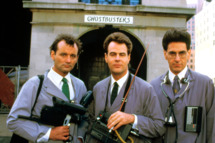 And so the original streams have crossed for the last time. According to The Hollywood Reporter, The Office writers Lee Eisenberg and Gene Stupnitsky will need to make changes to their Ghostbusters III script in the wake of Harold Ramis's passing. There are no other details as to what Dr. Egon Spengler's intended involvement would have been in the upcoming sequel, but needless to say, it would have been bone-dry and provided an extremely crucial piece of occult esoterica.