Jay Leno's Latest Tonight Show Farewell Drew a Big (But Older) Audience
See ya soon, Jay!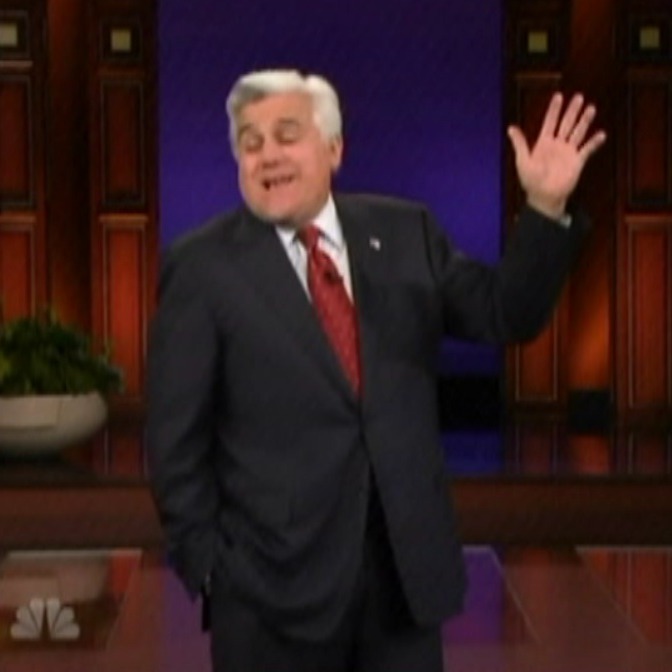 Jay Leno's latest good-bye was seen in more homes than his previous good-bye — but the folks who watched were older. Per preliminary Nielsen data from the nation's top 56 television markets, Thursday's swan song sequel for The Tonight Show With Jay Leno was seen in about 9.2 percent of the nation's homes. That's up from the 8.8 rating Leno's May 2009 departure averaged, but still well below the 11.3 rating Tonight earned a few months earlier in '09, when President Obama stopped by the show for the first time. Leno also easily drew a bigger total audience than Conan O'Brien's final, controversy-tinged Tonight, which went out with a 6.9 household ratings. Those Leno gains were all among older viewers, though: Conan — and Leno 2009 — did much better in the demo ratings. Among NBC's target audience of adults under 50, last night's last Leno Tonight earned a 3.4 rating. That's far below the 4.7 adults 18 to 49 rating Conan notched when he said "fuck you" farewell to NBC in 2010, and behind the 3.6 rating Leno averaged in 2009.
Comparisons to previous exits are a bit tough, of course. On the one hand, there's been tons of audience erosion in late night in the past four years, pushing down numbers across the board (except for Jimmy Kimmel, who's been adding viewers steadily). On the other: NBC aired the Olympics Thursday night, drawing nearly 20 million viewers in prime time. That's far more than the Peacock's prime-time average for either Leno's first send-off or Conan's finale, and it gave Leno a big chin-up over both Conan 2010 and his own previous good-bye. The next big milestone in late night comes on February 17, when Jimmy Fallon takes over Tonight. Fallon ended his run as host of NBC's 12:35 show, Late Night, on a high note: Boosted by Leno's big numbers, Fallon notched a 1.9 among adults under 50, more than doubling the show's usual overnight numbers.