Jennifer Aniston Cast in Drama Cake
From a Black List script from Patrick Tobin.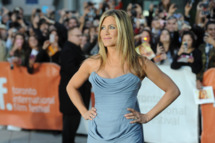 While we loved Jennifer Aniston as a sexy faux mom in We're The Millers and as a sexy evil boss in Horrible Bosses, we're even more excited to see her as a chronic pain sufferer obsessed with an acquaintance's suicide in Cake. Aniston will star in the upcoming drama, based on the Black List script by Patrick Tobin, in which her character discovers the details of the woman's suicide and develops a relationship with the woman's husband. Hmm, actually ... that last part sounds like it could be sexy. Even better.