Joseph Gordon-Levitt and Seth Rogen Are Finally Making a Christmas Movie
With<em> 50/50</em> director Jonathan Levine.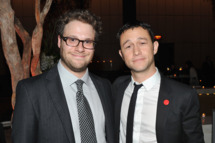 Joseph Gordon-Levitt and Seth Rogen are teaming up once again, and this time they are starring in a Christmas movie. Just think: In ten years time, our children might be watching a 24-hour marathon of Untitled Sony Comedy for the holidays. The movie follows "three childhood friends" who "renew their old tradition of going out on Christmas Eve" in New York. No word yet on who will play the third friend, but we can name four or five guys we are 9000%  sure are in the running.