Kanye Is Releasing a Yeezus Film in Theaters
Directed by Hype Williams.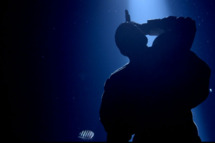 It is directed by Hype Williams, and you can watch the trailer (which also played on Late Night With Seth Meyers) here. It's mostly tour footage, which would suggest that this is a concert film, and therefore separate from the project Kanye and Bret Easton Ellis have been writing together. But who (besides Kanye) knows.