Ken Marino to Co-Star With Casey Wilson in Marry Me
From the creator of <em>Happy Endings</em>.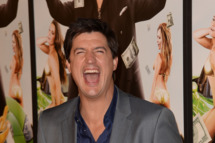 We were already signed on to watch Marry Me, the new NBC single-cam from Happy Ending creator David Caspe, when we learned that Eastbound & Down actor Ken Marino has been cast across from Caspe's real-life fiancé Casey Wilson as the male half of the show's lead couple. So basically David Caspe is just hitting it out of the park, and that's not even factoring the repeated, inherently-flattering comparisons between Marry Me and Mad About You.