Linda Cardellini Will Join Kyle Chandler on Netflix Show From Damages Guys
She'll play one of four siblings on the yet-untitled family thriller.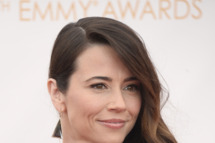 The Hollywood Reporter writes that Linda Cardellini — most recently seen getting busy with Don Draper on Mad Men (poor Sally!) — will join the forthcoming Netflix family drama being developed by Damages creators Todd A. Kesler, Daniel Zelman, and Glenn Kessler. Cardellini will play Meg, the youngest of four adult siblings, in a family that includes Kyle Chandler as a stable middle brother and Ben Mendelsohn as the black-sheep eldest brother. Exciting news, although this whole blood-relatives thing probably rules out the possibility of catching Lindsay Weir in flagrante delicto with Coach Taylor. Then again, maybe not. It is Netflix.