Lionsgate: Philip Seymour Hoffman Had Nearly Finished Mockingjay
Will not affect the films' release dates.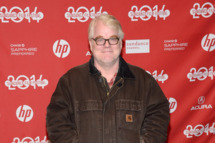 With only seven days of shooting left on Mockingjay Part 2, it seems that Philip Seymour Hoffman's passing will not affect the release date of the Hunger Games sequels in which he plays game master Plutarch Heavensbee. "Philip Seymour Hoffman was a singular talent and one of the most gifted actors of our generation.  We're very fortunate that he graced our Hunger Games family. Losing him in his prime is a tragedy, and we send  our deepest condolences to Philip's family," Lionsgate said in a statement. The films are currently set to premiere Nov. 21, 2014 and Nov. 20, 2015, or two days in the near future during which you will almost certainly experience a wave of existential sadness in a movie theater.