20 Great Unheralded Morrissey Songs
Nobody loves us? Not true.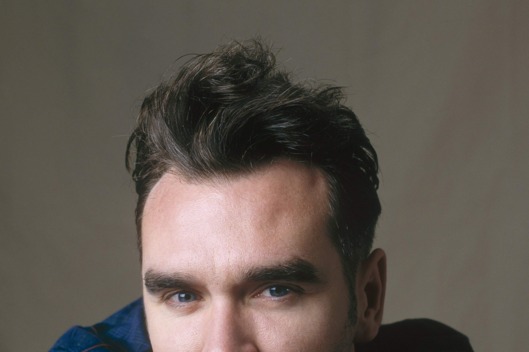 Few modern musicians' discographies have been anthologized and compiled as exhaustively as Morrissey's, thanks to the many Morrisseyisms he unleashed during his inspired run in the 1980s with the Smiths and over a solo career that now spans more than a quarter century. But even the most ardent completists can be guilty of favoritism for selected tracks and eras, resulting in shameful blind spots that shroud comparatively neglected diamonds in the rough. With the arrival today of the deluxe edition reissue of the mope maestro's 1992 album Your Arsenal, courtesy of U.K. label Parlophone and available in the U.S. via Rhino Records — not to mention a recently announced tenth solo album on deck for later this year — Vulture seized the opportunity to shine the spotlight on 20 Morrissey solo numbers that don't get mentioned as often as "Every Day Is Like Sunday" and "Suedehead," but which deserve a second (and third and hundredth) listen anyhow.
"Lifeguard on Duty" (1987, Viva Hate sessions)
Recorded during Morrissey's fruitful late-'80s partnership with producer-songwriter Stephen Street, "Lifeguard on Duty" missed inclusion on Viva Hate but was resuscitated as part of a 2010 Bona Drag reissue. While somewhat silly and structurally straightforward, the concise three-minute number gratifyingly swings and swoons with The Queen Is Dead–era ease. It also offer a vintage Moz falsetto and the memorably slack assurance that, "I've always been so kind / To the sick and partially blind" alongside imagery of towns "drenched in phlegm."
Key Lyric: "Lifeguard, save from me from life / Save me from the ails and the ills and from other things."
"Girl Least Likely To" (1990, "November Spawned a Monster" B-side)
There's no real hook in "Girl Least Likely To," one of three songs Morrissey co-wrote with Smiths bassist Andy Rourke. But there is one man's biting account of a female friend's cliché angst and naked ambition. It's Morrissey at his justly snobbish best, and he delivers a vocal that, aptly, lolls along like spoken word. And while the Britpop duo Boy Least Likely claims "Girl" did not inspire their chosen name, no one would have blamed them for feigning such intention.
Key Lyric: "But she would die if we heard her sing from the heart / Which is hurt."
"At Amber" (1990, "Piccadilly Palare" B-side)
The flipside to the Bona Drag single "Piccadilly Palare," the oddity "At Amber," co-written with Stephen Street, is often decried by fan contingents — but unduly so, if you ask us. Its chorus's crashing symbols and squalling guitar belie nonsensical couplets describing the author's (presumably) fantasized exchange with a limbless hotel patron about whether to join the venue's intoxicated fray. It's a curiosity, to be sure, but a catchy one.
Key Lyric: "Oh, my invalid friend / In our different ways / We are the same."
"Mute Witness" (1991, Kill Uncle)
If Viva Hate was embraced with near-unanimous fervor, Moz's follow-up, Kill Uncle, remains an object of much discontent. But he was on to something generous in sound with "Mute Witness," featuring pounding glam piano courtesy of producer Clive Langer (who'd also helmed records by Dexy's Midnight Runners and Elvis Costello, among others), and the kind of rollicking buildups and breakdowns that would become signature on Your Arsenal. Surreal lyrics that speak plainly to the title keep things at a distance, but "Mute Witness" is a reclamation project we're happy to support.
Key Lyrics: "She is only trying to tell you / What it was that she saw."
"Tony the Pony" (1991, "Our Frank" B-side)
Buoyed by Madness bassist Mark Bedford's dub rhythm and co-writer Mark E. Nevin's jangly acoustic outro, "Tony the Pony" suffered from being associated with the otherwise eclectic Kill Uncle (it was a bonus track on the U.S. version). But the song hearkened back to late-'80s Morrissey, with lyrics vivifying the story of someone who has devolved into self-exploitation. Tragically, "Tony" was excluded from the 2013 Kill Uncle rerelease, meaning you'll have to pony up for the out-of-print original. Or just listen to this YouTube clip.
Key Lyric: "I will never say I told you so / Or how I knew that something bad would happen to you / I don't want to say I told you so / Oh, but Tony: I told you so."
"The Loop" (1991, "Sing Your Life" B-side)
It must have been fun writing songs around Morrissey's voice. This shuffling bit of Bo Diddley–by-way-of–Link Wray surfer-billy is lyrically a bit banal but is a deceptively rich composition from Mark E. Nevin that, if nothing else, demonstrates its singer's versatility. "The Loop" is a definitive B-side, but arguably merits more conversation than its host single.
Key Lyric: "So one day when you're bored / By all means call me / Because you can do / But you might not get through."
"I've Changed My Plea to Guilty" (1991, "My Love Life" B-side)
This is as good a leave-you-breathless piano ballad (and quite "Imagine"-ish) as the man ever committed to vinyl, and no doubt sated those looking for repreive from Kill Uncle's experiments. Included on the significantly awesome single "My Love Life," the song doesn't have many chord changes or vocal theatrics (save some well-earned soaring on that climactic "it's a lot like love"), and its tale of punishing love could have come off as melodrama. But Morrissey's earnest performance shatters any judgment (especially live).
Key Lyric: "Outside there is a pain / Emotional air raids exhausted my heart / And it's safer to be inside."
"You're Gonna Need Someone on Your Side" (1992, Your Arsenal)
Raging and roaring, "You're Gonna Need Someone" is the revved engine of Your Arsenal, a would-be single that (with the help of producer Mick Ronson) showed Morrissey can do heavy with the best early '90s' alt-provocateurs. "You're Gonna Need" lacks the novel charm of "You're the One for Me, Fatty" or friendly lilt of "We Hate It When Our Friends Become Successful," but underscores its album title by successfully flashing some impressive new weaponry, chiefly the refusal to eagerly please.
Key Lyric: "Someone kindly told me that you'd wasted eight of nine lives / Oh, give yourself a break before you break down / You're gonna need someone on your side." 
"The National Front Disco" (1994, Your Arsenal)
Amid all the controversy that surrounded "National Front Disco" — its lyrics concern a man successfully wooed by British anti-immigration party National Front, and it was perceived by many as endorsement of their cause — what gets lost is the guilt-free splendor of its power-pop riffs and sing-song hook. The irony and intentions of its lyrics will stir debate for some time, but folks might be dancing along with "Disco" even longer.
Key Lyric: "There's a country / You don't live there / But one day you would like to / And if you show them what you're made of / Oh, then you might do." 
"Jack the Ripper" (1992, "Certain People I Know" B-side)
The widely celebrated version of "Ripper" comes from 1992's live collection, Beethoven Was Deaf. But in fact, a sparkling studio take can be found on the B-side of Your Arsenal standout "Certain People I Know." Its fireside acoustics would have been quite out of place on Arsenal, but when Morrissey — either singing from the notorious killer's perspective or using it as metaphor — eerily implores us to "Crash into my arms / I want you" because "You don't agree / But you don't refuse," it's awfully difficult to say no.
Key Lyric: "No one knows a thing about my life / I can come and go as I please / And if I want to, I can stay / Oh, or if I want to, I can leave."
"Why Don't You Find Out for Yourself" (1994, Vauxhall and I)
The Killers actually covered this one several years back, but their tepid interpretation saps the ethereal twee right out of this shoulda-been Vauxhall and I classic. Then again, only Moz had frequent U2 producer Steve Lillywhite guiding his recording. And while the nostalgic specter of "The More You Ignore Me, the Closer I Get" has threatened to dwarf Vauxhall's collective cachet, "Why Don't You Find Out for Yourself" earns its titles invitation.
Key Lyric: "Why don't you find out for yourself? / Then you'll see the glass / Hidden in the grass."
"Reader Meet Author" (1995, Southpaw Grammar)
Particularly following the intimacy of Vauxhall and I, '95's at-times sprawling Southpaw Grammar took some by surprise, even though Moz had, like the pugilist depicted on Grammar's cover, shown a tendency to stylistically bob and weave. But between the bookended ten-minute-plus epics lies "Reader Meet Author," a punchy, comparatively frill-free hummer that could have easily snuck past college radio and into MTV's "Buzz Bin." It's unclear whether Morrissey is lyrically sparring with, or identifying with, his own listenership as he laments our romanticized relationship to storytellers (and perhaps the latter to their stories), but "Reader" lands more than a few poetic jabs and guitar stabs.
Key Lyric: "You don't know a thing about their lives / Books don't save them / Books aren't Stanley knives."
"Nobody Loves Us" (1995, "Dagenham Dave" B-side)
British critics can be harsh, and they ragged a bit on "Dagenham Dave," the lead single from Southpaw Grammar. Morrissey should have led with its B-side, "Nobody Loves Us," a quintessentially soaring track that ranks among his best work ever. In hindsight, the anthemic "Nobody Loves Us" is a perfect, proud distillation of Morrissey's work with producer Steve Lillywhite and songwriting partners Alain Whyte and Boz Boorer, and hinted that a necessary hiatus was soon to come.
Key Lyric: "Call us home / Tuck us in / Nobody wants us."
"Black-Eyed Susan" (1995, "Sunny" B-side)
What's not to love about "Black-Eyed Susan"? Orphaned during Morrissey's transition from EMI to RCA, this irresistibly folky, fuzzy four minutes was purportedly slotted as a B-Side to "The More You Ignore Me." Ultimately, it saw daylight on the U.K. single "Sunny" and shone brightest of that vinyl slab's three tracks. The clanging breakdown and re-ascent into grandeur (not to mention Moz at his witty best) is the kind of thing one would expect from Prince or Bruce Springsteen, but on "Black-Eyed Susan," Morrissey blows the lid off.
Key Lyric: "Black-eyed Susan / You make us nervous / Because we're very aware that you do not care."
"Trouble Loves Me" (1997, Maladjusted)
Raise your hand if you're a sucker for a Morrissey ballad. If fans had known at the time that Maladjusted would be his final solo bow for seven years, more tears may have been shed for this earnest paean to preferring misery's company to fickle love. Granted, "Oh, please fulfill me / Or otherwise kill me" is a tad melodramatic, but hey, no wonder the guy needed a rest.
Key Lyric: Show me a barrel and watch me scrape it / Faced with the music, as always I'll face it / In the half-light, so English, frowning."
"Kit" (1997, Maladjusted sessions)
There aren't a ton of Maladjusted-era rarities that have gone unpolished and unpublished, which makes "Kit" a prized anomaly. Morrissey's cracked vocals and the leak's overall demo quality are apparent, but surpassed by its psychedelic arrangement, rueful invocation of the titular protagonist and lush final half-minute. Plus, you'll likely never catch Moz unearthing this one on his upcoming tour (though Boz Boorer does play it live), so consider this stream better than silence.
Key Lyric: "We're all here for you / We'll order drinks for you / We'll pick you up, take you back home / Just to get some changes made / Oh Kit, oh Kit."
"This Is Not Your Country" (1997, "Satan Rejected My Soul" B-side)
Along with "National Front Disco," "This Is Not My Country" is another entry on this list that has come under scrutiny for its perceived racially inflammatory sentiments. As ever, that depends on whether you believe Morrissey would willingly wax about "how we hate your kind / Get back / This is not your country" in earnest or as means of critically articulating someone else's point of view. Let the lyrics fade into the abstract, and "This Is Not Your Country" is an awfully pretty and twinkly, if a bit indulgent, torch song — albeit one that stirs images of nationalist pride and child casualties.
Key Lyric: "We're old news / All's well / Say BBC scum / Everybody's under control / Of our surveillance globes."
"Shame Is the Name" (2009, "I'm Throwing My Arms Around Paris" B-side)
At first blush, "Shame Is the Name" is another sardonic Morrissey ode to silly people — like some "dim-ass teen" who gets "drunk all day" — doing silly things. But then there's that great piano interlude, an instantly recognizable, urgent backing vocal from old pal Chrissie Hynde, and Moz's effortless way of kissing his subjects off with the flip of an octave. It is indeed a "Shame" that this B-side didn't land on Years of Refusal, but it will no doubt find acceptance on some odds-and-ends-comp before too long.
Key Lyric: "What's your name, what's your name? / What's your dreams, your goals, your ambitions and aims? / She laughed and said, 'Shame is the name.'"
"Treat Me Like a Human Being" (2011, "Glamorous Glue" reissue B-side)
Morrissey song titles don't get much more nakedly yearning than "Treat Me Like a Human Being," which is saying something. This terse, baroque call to connection could almost be mistaken for an old Lou Reed outtake (maybe it's those blue horns), were Reed at all inclined toward confessionals about wanting to be seen as "One who is real and who feels life." But when "Glamorous Glue" was unexpectedly reissued as in 2011 with "Human Being" as its companion, Morrissey acolytes found a bookend to the also criminally underrated 1988 track "Will Never Marry."
Key Lyric: "Treat me like a human being / I'd like to know how this feels."
"Action Is My Middle Name" (2011, tenth studio album sessions)
It's unknown whether "Action Is My Middle Name," which Morrissey and his band began trotting out live in 2011, will still appear on his upcoming '14 release, but damn if it doesn't find him in fine lyrical form. Like a night stalker, he brags of, "Biting my initials into your neck
" because, "You are my possession, you don't realize yet," only to drolly muse that he "can't waste time anymore," since, after all, "Everybody has a date with an undertaker / A date that they cannot break." And, triumphantly, many near-future engagements with the unrivaled Pope of Mope.
Key Lyric: "Tongue against tongue and we've only just begun / Could I interest you in hours of fun?"