Now Anne Hathaway Might Star in The Intern
Reese Witherspoon gave up the role in January.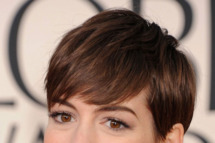 In January, Reese Witherspoon gave up the female lead role in Nancy Meyers's The Intern, which stars Robert De Niro as an old dude who decides to gain some workplace experience at a clothing website. (Witherspoon inherited the role from Tina Fey.) On Friday evening, The Hollywood Reporter reported that Anne Hathaway is now in talks to swan around Meyers's tasteful, earth-toned office space. The choice makes sense, as Hathaway has the same earnest, backlash-prone vibe we've come to expect from certain corners of the online start-up world.