Showtime Renews Shameless and House of Lies
To make sure 2015 is filled with shame and lies.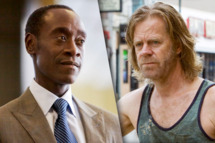 Shameless and House of Lies are in the middle of their seasons right now, but Showtime felt it wasn't too early to announce that both have been picked up for next year. This will give HoL a fourth season and Shameless a fifth, which is still nothing compared to the British version's 11 seasons. The news comes after Episodes was renewed back in December, meaning Showtime's full spring Sunday lineup will be back in 2015. The network's name promises show times, so having actual shows is super important.