How Well Do You Know the Oscars? Test Your Memory With Vulture's Tricky Quiz!
Do you remember some of the more obscure nominations earned by Leo, Kate, and Brad?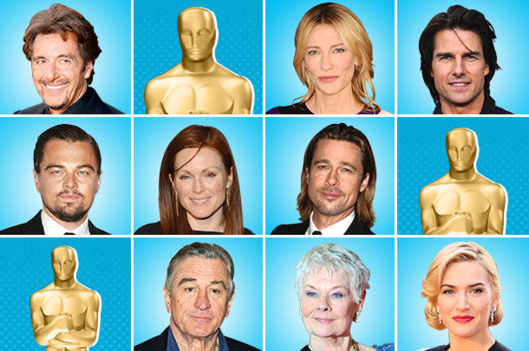 Quick question: Can you name the movie that earned Naomi Watts her first Oscar nomination? You may be tempted to guess 2001's Mulholland Drive, where Watts delivered that incredible breakthrough performance, but you're misremembering; instead, she was snubbed for Mulholland Drive and earned her first Academy nod two years later for her considerably less iconic work in 2003's 21 Grams, a reminder that though the Oscars are meant to honor the very best of what film has to offer, they don't always get it quite right. With that in mind, then, we thought we'd come up with a fun quiz to test your Oscar memory: We'll present you with ten movie stars — including Leo, Cate, and Brad — and for each actor, you'll pick from a list of ten of their most critically acclaimed movies, trying to remember which ones actually earned them an Oscar nomination. After you submit your picks, you may be surprised by which mostly forgotten roles made the cut and which famous parts didn't, so be sure to compare your Oscar memory to your friends' by sharing your final score on Twitter and Facebook. Now let's get started! Check on the potentially Oscar-nominated titles below and press submit when you think you've got it.