Check Out The Americans Writers' 1980s Inspiration Wall
Hey, that's Susan Lucci!
Earlier this month, I paid a visit to The Americans writers' room in Brooklyn. One side of the space was a USSR-red bulletin board with all sorts of pictures and captions tacked up. At a distance, it looked a lot like Carrie's crazy conspiracy theory wall from Homeland. There were headlines about the the launch of President Ronald Reagan's weekly radio broadcasts and former KGB head Yuri Andropov's appointment to General Secretary of the Soviet Communist Party's Central Committee. These tidbits made it seem like this could be the outline of some based-in-fact CIA versus KGB spy shenanigans for a future plot arc! But on closer look, among all the political news, there was a note about Susan Lucci losing at the Daytime Emmys for the third time. And Drew Barrymore hosting SNL at age 7. And the opening of Graceland. Showrunners Joe Weisberg and Joel Fields told me it's their '80's board — less a blueprint than an inspiration wall to keep them in the show's period.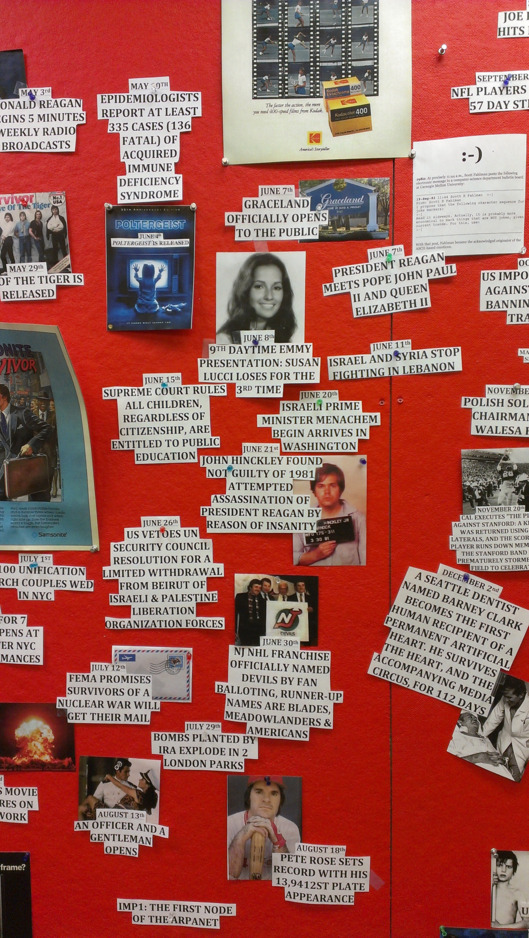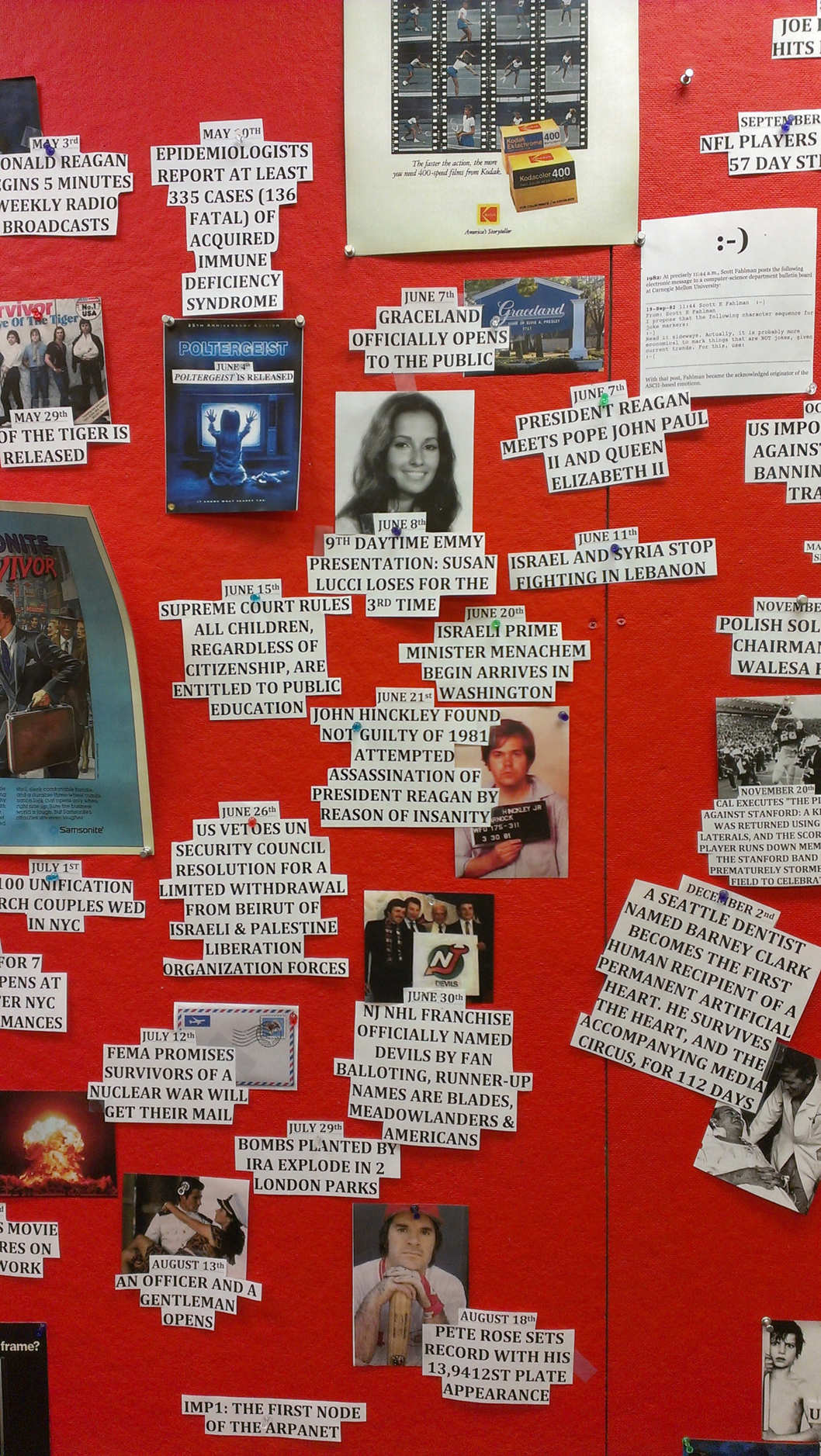 The wall-size collage of cultural and historical highlights spans the years 1981 through 1983, and has undergone a few reconfigurations since the show's debut. The Americans' second season (which kicks off February 26) is set in 1982, so at the moment that year has taken up most of the real estate. Fields said the board was built as a conversation-starter and not a list of references points to throw in for "period authenticity." Outside of the show's soundtrack (which has featured Peter Gabriel's "Games Without Frontiers" and Fleetwood Mac's "Tusk"), they've kept overt '80s shout-outs to a minimum. (We do know that Paige has 16 pairs of leg warmers, but otherwise ... ) "We figured a huge wall of images and details that everyone passes by so frequently would inspire discussion and ideas about the period and also keep it alive in everyone's subconscious," he said. In that vein, the writers also keep nearby a life-size talking Reagan cutout as well as both Totally 80s Trivial Pursuit and The Totally Awesome 80s TV Trivia Book. "If nothing else, it inspired a lot of procrastination," Fields laughed. Still, I noticed Cheers' 1982 premiere prominently featured on the wall, and can't help but hope that Sam and Diane disguises for Philip and Elizabeth are in the offing.