Dean Winters Joins Battle Creek As First of Two Detectives
Vince Gilligan's new drama is getting better and better.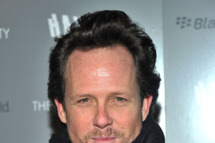 Vince Gilligan's much-anticipated new CBS drama, Battle Creek, just cast 30 Rock alum Dean Winters as its first lead. The one-time beeper king joins the show as Detective Russ Agnew, a "smart, tough, impatient and pragmatic guy who gets results but whom no one wants to partner with because he prefers to cut through any nonsense," The Hollywood Reporter reports. For those who think that sounds a bit like True Detective: Know that Agnew's yet-to-be-cast partner is a naïve, trusting FBI agent. We'd like to recommend one Miss Elizabeth "Dummy" Lemon for the role.