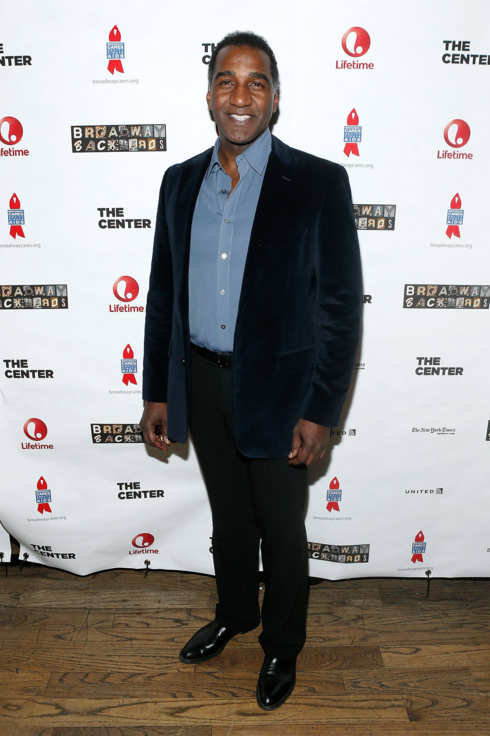 At Monday night's Broadway Backwards after-party held at John's Pizza in midtown, Norm Lewis stood with a view of the Majestic Theatre at his back, the place where, on May 12, he'll become the first black actor to take the title role in the Broadway production of The Phantom of the Opera. "People have been very excited about it," said Lewis, "and I think it will get people — especially producers and directors and the creative staff — to look deeper into a role, especially in a show that's universal and doesn't talk about race."
Lewis, who most recently played Olivia Pope's ex-fiancé Edison Davis on Scandal, described the Phantom gig as "a dream role and for a couple of reasons. Mainly I love the show, but actually [it sets] a precedent. Out of 26 years, there's never been an African-American or someone of color to play the role on Broadway," though Lewis pointed out that Robert Guillaume played the role in the Los Angeles production in 1990, succeeding Michael Crawford. "I know there's a lot of talented African-Americans, and even if it wasn't me, I wanted someone to be able to do it."

Lewis noted that he had just been to the current production of Les Misérables, where black actor Kyle Scatliffe plays the role of Enjolras, a nontraditional casting choice that Lewis found moving. "A tall, six-foot-two, strapping black man is playing this role that I have never seen a black man play before, and it made me tear up," said Lewis. "And when he said the words 'we will not be slaves again,' without saying it, it just had a double meaning to it." He hopes, then, that casting directors will be more open to seeing black actors for period productions in the future. "If they have the talent, let them come in and audition," said Lewis. "Maybe you might see something that you didn't see before."