Chris Brown Is Back in Jail
After getting kicked out of rehab.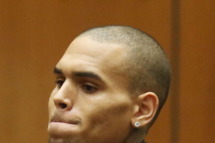 Unlikable person Chris Brown was arrested on Friday after getting kicked out of his court-ordered rehab "for failure to comply with rules and regulations of the program." Brown, who was being treated for anger management and other issues, was reportedly "cooperative" when he was taken into custody in Malibu. It's not clear which rules and regulations Brown violated, but TMZ claims that the problem didn't involve "violence or drugs." At least he's staying creative in there.