Daft Punk and Jay Z Made a Mystery Song
It's called "Computerized."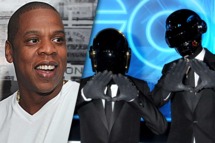 Its provenance is unknown, but Pitchfork confirms that the collaboration is real and suggests that "Computerized" probably predates Magna Carta Holy Grail (because Jay is rapping about a Blackberry, not a Samsung.) Okay, that's all we got. You can listen now.