FX Renews Archer for Seasons 6 and 7
Deeper and deeper into the Danger Zone.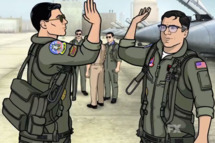 Lana. Lana. LAAAAAAAANA! You'll be excited to hear that FX has just renewed Archer for two more thirteen-episode seasons, on top of the seven episodes still remaining in the show's fifth season. Finally, an animated show makes it more than thirty episodes past a Kenny Loggins guest appearance. Is there a non-sexual fan version of "sploosh" we can use in times like these? Just kidding. The regular version will do just fine.