Scenes From the Game of Thrones Fan Event in Brooklyn
Fans dressed as Robert Baratheon, Robb Stark, and more. Plus, the real Hodor and George R.R. Martin, too!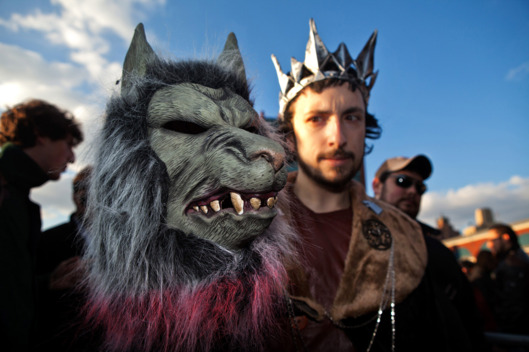 Thousands of Game of Thrones fans lined up outside Barclays Center in Brooklyn last night, all of them more than willing to surrender their phones (to security guards) in the name of HBO's stringent no-spoilers policy in return for watching the season-four premiere a few weeks early. Tickets had been priced at a populist $15 apiece, and sold out in fifteen minutes. Not everyone came in costume, but those who did committed fully. Milling outside the Atlantic Center subway station we found faux versions of Robert Baratheon, Jaime Lannister, Melisandre, Brienne, Robb Stark, a few you'd-only-get-it-if-you-read-the-books characters, and even one that we're pretty sure was made up. Oh, cos players, you make the world more fun! Click through to see all the action, and stick around for on-stage appearances by fan favorites like Hodor, Arya, and even George R.R. Martin himself.
BEGIN SLIDESHOW