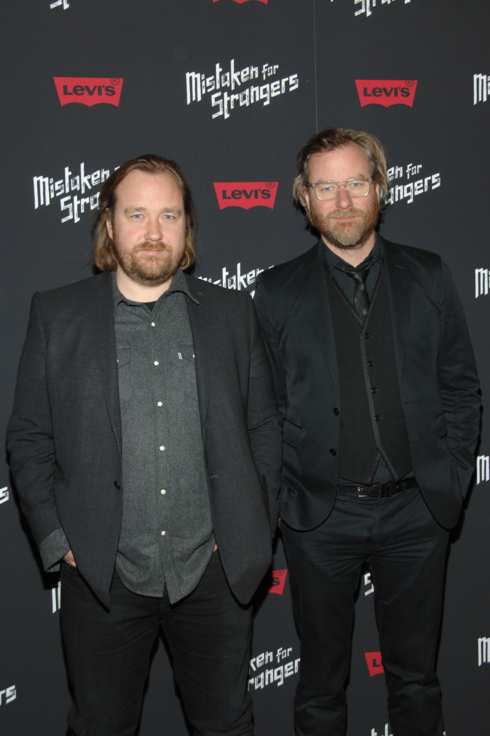 In the new documentary Mistaken for Strangers, the National's lead singer Matt Berninger invites Tom, his slacker younger brother, to travel with the band on their 2010 High Violet tour. In response, Tom gets drunk, neglects his duties, and eventually gets himself fired, while simultaneously filming the whole thing. The footage that emerges from the rubble is a raw meditation on brotherly love and rivalry, and a self-reflexive look at the filmmaking process itself. "I'd say 60 percent of the thing, if he'd have just showed me or the band members one of these bits instead of the whole movie, we would have said don't use that," said Matt at Wednesday night's premiere hosted by Levi's at NYC's Landmark Sunshine Cinema. "Had he told us before what he was going to do, we probably would have pulled the plug."
"I got the drummer naked in the movie, but I think at some point I think I filmed everyone at least in their underwear, where I'm like: Maybe as blackmail, I'll keep that to myself," joked Tom, who described himself — or at least, himself in the film — as a cross between Zach Galifianakis and Chris Farley."If the band wouldn't let me release the movie, I would have that footage, like, Well, I have you in your underwear, or even fully naked."
Much of the movie focuses on the relationship between Matt and Tom, and the entrenched sibling roles that each of them has grown to inhabit. "I think Tom is much less of a fuck-up than the movie portrays. But it probably accurately portrays me as being a, whatever, a short-tempered dick," said Matt. Tom, meanwhile still sees himself as riding his brother's coattails, even now that he's a certified fresh film director. "I still live in his garage in Venice, in a converted garage ... I still raid their fridge and I still eat pizza and Chinese food every couple days. My eating habits haven't changed." On the plus side, all that nude band footage will probably be worth at least a couple of months of pizza money if filmmaking doesn't pan out.