Nick Frost Joins Fox's Sober Companion
As the non-sober companion.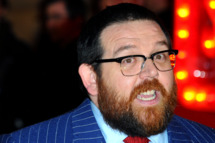 And so the best friend has become the … other best friend. Most well-known as Simon Pegg's lovable chum in films from Shaun of the Dead to The World's End, Nick Frost has just joined Fox's comedy pilot Sober Companion as inebriated attorney to Justin Long's sober coach. In the pilot, Frost's character, an alcoholic lawyer, is court-ordered to spend 90 days with Long's eccentric sober companion, who relies on unorthodox methods to help his client abstain. If these two have good buddy chemistry, we look forward to some kind of no-holds barred best-friend cage match between Justin Long and Simon Pegg in real life.