PlayStation's First Show Is a Comic-Book Drama
Based on the graphic novel "Powers."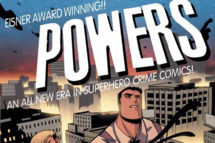 PlayStation has entered the original programming race with their hour-long drama Powers, produced by Sony Pictures TV. Based on the graphic novel by Brian Michael Bendis and Michael Avon Oeming, Powers is apparently equal parts "superhero fantasy, crime noir and police procedural" in which Detective Christian Walker must investigate crimes committed by people with super powers. Between Netflix, Amazon, Xbox, PlayStation and regular TV, we're going to have to give up on sleep entirely to watch every promising show. It's okay. We'll sleep when we're dead, which should be about two weeks after we kick off this whole "stop sleeping" thing.