Blade Runner Writer to Pen Prometheus 2
The new <em>Blade Runner</em>, that is.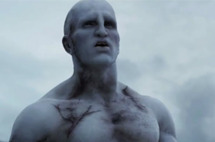 Michael Green must begin each day by plunging his hands into a bucket of rice, boxer-style, before churning out one of the infinite screenplays he has on his docket. According to The Wrap, the screenwriter behind Green Lantern, the upcoming Flash movie and the untitled Blade Runner project has now signed on to pen a new script for the Prometheus sequel. Director Ridley Scott clearly must have liked his work on the new Blade Runner. He also probably liked the fact that Green is some kind of inexhaustible screenplay-writing replicant.