A Roundup of Responses to Anthony Lane's Scarlett Johansson Profile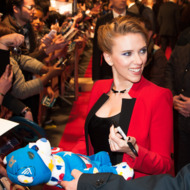 In his recent New Yorker profile of Scarlett Johansson, Anthony Lane revealed that inside the soul of every acclaimed film critic, there's a horny teenage boy just waiting to get out. Instead of exploring her response to the Woody Allen controversy or the recent Sodastream incident, Lane tapped into a rich well of literary devices as he praised "the honey of her voice" and her, uh, beveragelike qualities: "Johansson was, indeed, gilded to behold. She seemed to be made from champagne."
Critics were quick to pounce on Lane, with Esther Breger at the New Republic bemoaning it as "the worst profile I can remember reading in The New Yorker" and Slate's Katy Waldman calling out Lane's tendency to praise ScarJo's looks while simultaneously undermining her substance as a subject (not to mention his "inappropriate-uncle creepiness"). Here's what the blog and Twittersphere had to say about the piece:
"The problem with the New Yorker piece, then, is not (just) that it salivates over ScarJo, but that it refuses to treat her as a human subject, with qualities of mind. (If this is because Lane didn't have much time with Johansson, maybe the magazine shouldn't have run the piece.) When Lane isn't characterizing Johansson as strangely blank and opinion-less, he's trafficking in the dream of the remote, unknowable Woman—a flat projection of male desire. Rather than try to comprehend her (which is what profile writers are supposed to do), Lane notes how "[Johansson's] deadpan demeanor … suggests that we should be summoned, not repelled, by things that we do not understand." He speaks of her "unknowability that both tempts and eludes the public's craving to know more." He says that "no one will ever quite unravel what Johansson is or does.""
"Lane's piece, the worst profile I can remember reading in The New Yorker, can be reduced to one basic takeaway: Anthony Lane thinks Scarlett Johansson is radiant, and wants to tell you all about it ... Johansson, who has two movies coming out in the next few weeks and was recently the center of a controversy over her endorsement of SodaStream, isn't a bad subject. (Though Lane's question, 'Why should we watch Johansson with any more attention than we pay to other actors?' can be easily answered: We don't.) But he has barely any time with the star: He watches her during a 7-minute photoshoot in a Waldorf-Astoria suite, and hangs around for a while afterwards as one of Johansson's publicists supervises. He's under strict instructions not to mention Johansson's pregnancy, and he complies with those terms. He briefly asks her about the Sodastream affair and the Woody Allen controversy, but dispatches with those topics in a few hundred words. He doesn't supplement this flimsy interview with any other reporting."
"There's been much made of the statistics VIDA Count puts out every year that counts the bylines of women writers at major national literary publications. (The New Yorker published 436 men and 176 women in 2013 — about 28.7 percent.) But to me, the Lane profile points to a deeper problem: editors. It's hard to say who edited this piece of writing, but I think it's a decently safe bet that it wasn't an editor who saw a problem with objectifying Johansson this way."
Noreen Malone offers a "semi-defense" of Lane, blaming his editors for commissioning a feature-length story out of what was clearly a last-minute interaction with limited access. As Malone says, "it was very clear to me in reading this article that he got like twelve minutes with her ... He had to write this article really quickly. This is why people write bullshit celebrity profiles, because they get no access." Hanna Rosin herself was less sympathetic, saying "I feel like this is Id, that's the problem with this profile. It's like, what happens when somebody doesn't have any time. This is stream of consciousness and, the stream of consciousness, just — it's terrible."
Naturally, the Twitterverse weighed in, too. Some liked the piece:
While some just told it like it is:
Just jacked off to Anthony Lane's profile of Scarlett Johansson.

— Old Strings (@Old_Strings) March 20, 2014
Photo: Francois Durand/Getty Images