Ryan Gosling Hired a Dream Analyst for His Directorial Debut, How to Catch a Monster
She was brought on set to help the actors, Saoirse Ronan tells us.
For his directorial debut, the upcoming surreal fantasy How to Catch a Monster, Ryan Gosling (who also wrote the film) hired a dream analyst to advise his actors. Let that soak in for a minute: Ryan Gosling had his cast consult with a dream analyst. It's an eccentric move, even for a guy as eccentric (and dreamy) as Gosling. But, as with all things Quirky Gosling, it's pretty fantastic as well. According to Saoirse Ronan, who stars in the film alongside Christina Hendricks, Eva Mendes, and Matt Smith, the analyst was a woman named Greta. She had the actors write themselves letters each night — something along the lines of, "Dear inner self, if it is your will, reveal to me in a dream tonight what my character's relationship is to this other character," Ronan told Vulture. Then they let their subconscious provide the answers.
"We would come in the next day to discuss our dreams with each other, and act them out," says Ronan, who stars in this weekend's new Wes Anderson film, The Grand Budapest Hotel. "I'd tell Greta, 'Listen, I don't know what this is, but I was doing this last night, and then this person popped up [in my dream]' and she'd make sense out of it. And that was our rehearsal." By sharing their dreams — recurring dreams in Hendricks's case — "it made us become very close," Ronan said. "It was a very new method for me, because all of a sudden, Ryan was encouraging us to incorporate our own personalities into our characters, how you feel about things, what your anxieties are, and things like that."
Ronan plays a girl called Rat in the movie. (Because "she kind of lives like a rat," Ronan explains.) "She lives in this house with her grandmother, and her grandmother's a hoarder, and there's lots of man-made tunnels within the house, because there's so much memorabilia that the grandmother's collected over the years. And I had a pet rat, Nick. Ryan had shown me photos, and he said, 'So these are the rats we can choose from.' And there was this beautiful white Siberian rat, like a Russian rat, or something like that, and he had beautiful eyes, and I thought, Oh! He's really nice. And Ryan was like, 'Oh! I think we're going to go with a sewer rat. The mousey, brown-gray sewer rat.'" But by and large, Gosling was the expert collaborator you'd expect him to be, allowing for improvisation, and getting everyone psyched to shoot the same scene in different locations. "It kind of felt like a guerrilla-style filmmaking experience," Ronan said. "We'd learn our scenes the night before, and then he'd tell us to just forget about that, and just chat. I found it very brave, for him to have so much trust in his cast."
The Grand Budapest Hotel was a much more structured proposition, it being a Wes Anderson production and all. Ronan plays Agatha, a bakery employee who makes a popular dessert, Courtesans au chocolat. (Anderson dreamt up this goodie, but Anemone Müller-Grossman, a pastry chef in Görlitz, Germany, where the movie was filmed, actually created it.) The pastry, like everything in Grand Budapest, was carefully prepared in advance; Anderson knew exactly what he wanted. "His script was like reading a storybook. Everything was extremely specific. He puts all these storyboards together, and he uses animatics to show what the film is going to look like, almost every single shot." Anderson also created voices for all the characters, and before a take, he would demonstrate what he wanted from an actor by playing the audio he'd created on his iPad mini. "I feel like there's a part of Wes in every one of his characters," Ronan said. "In the way they speak, the way they communicate, their hand gestures. They're all distinctly Wes."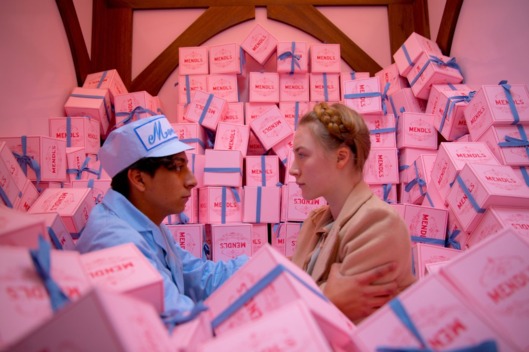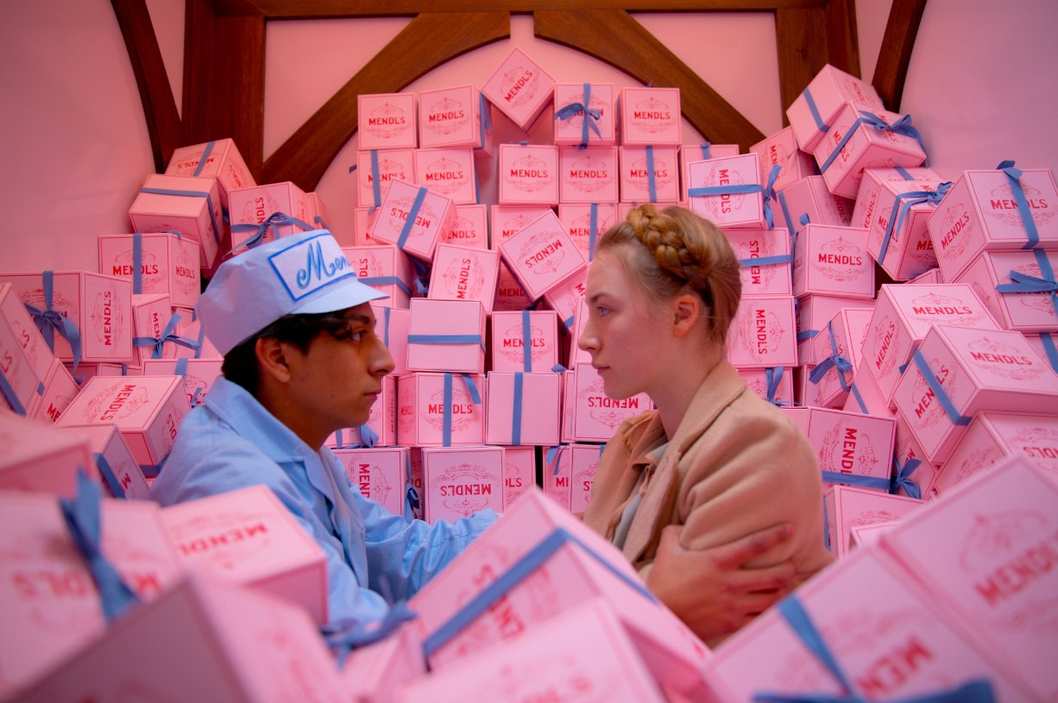 One distinct perk for Ronan: working with Ralph Fiennes, who plays the movie's legendary hotel concierge. You see, she's a huge Harry Potter fan. "I forgot that I was working with Voldemort [at the time]. But every time I think about it, I pinch myself." Coincidentally, she's working with another Potter villain, Jason Isaacs, in the film she's now shooting, Stockholm, Pennsylvania. One magical encounter continues to elude her, though: "I want to work with Harry Potter, do you know what I mean? I want to work with the Boy Who Lived. I wanted to marry [Daniel Radcliffe] when I was 7. I don't anymore, but ... we'll see how things go!"