True Detective: Matthew McConaughey Made a Detailed Chart of Rust Cohle's Life
The "Four Stages of Rustin Cohle."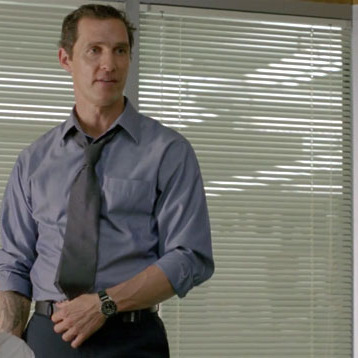 In a piece published today on Rolling Stone, Matthew McConaughey walks through the "four stages of Rustin Cohle" and talks about the process by which he worked out the character's history, a large task, especially given how much True Detective jumps around time-wise. "I just basically broke it down and made a 450-page graph of where Cohle was and where he was coming from," says McConaughey. (Could he possibly by exaggerating? That's a lot of pages.) On 1995 Cohle, the earliest and most uptight incarnation we see in the show, he says, "He's trying to walk the line. Monk-like. Trying to hold it together. And that's a lot easier with less interaction with others. There's a mechanical side to him. He needs the regimen of the homicide detective."
* The initial headline of this piece read, "Matthew McConaughey Made a 450-Page Document Charting Rust Cohle's Life." Though we note in the piece how that is likely not precisely true, it seemed best to change the headline. So we did.