50 Cent Cast in Melissa McCarthy's Spy
Be hilarious or die trying.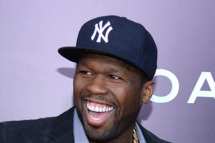 When it comes to career moves, 50 Cent's decision to join the Melissa McCarthy/Jason Statham movie Spy is second only to buying all that Vitamin Water stock way back when. According to The Hollywood Reporter, the rapper will be playing himself in the upcoming Paul Feig comedy, which makes sense, seeing as how the actual 50 Cent has almost certainly gotten into a slap fight with Jude Law, tumbled down three flights of stairs, and/or lost the seat of his pants to CIA attack dogs at some point or another.