Amy Adams to Star in Alien Movie Story of Your Life
Based on a Ted Chiang story.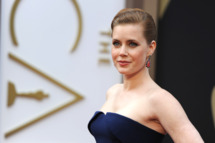 According to The Hollywood Reporter, Amy Adams is currently in negotiations to star in the alien movie Story of Your Life, perhaps the most misleadingly named alien movie of all time. A family drama or historical biopic maybe, but an alien movie? Adams's protagonist is purportedly an "expert linguist" who must learn to communicate with aliens who land on earth in order to determine if they are friend or foe. We're already excited to see the sequel in which every linguist in the world is incredibly jealous of Amy Adams for deciphering an alien language.