Best of Netflix, Amazon, and Hulu Streaming: Conspiracy Thrillers
Redford, Hitchcock ... and Walter Matthau.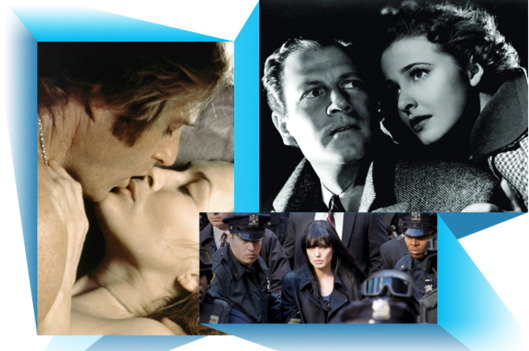 This weekend, as you search for a movie to watch, you can go see Captain America: The Winter Soldier or pick one of approximately 14 billion options available on streaming over a variety of services, be it Netflix, Hulu, Amazon, On Demand, or other sites. Every week, Vulture tries to make life easier by narrowing it down to a handful of heartily recommended options. This week, Angelina Jolie, Walter Matthau, Alfred Hitchcock, and Robert Redford stick their noses in enemy business for our pleasure.
Three Days of the Condor
The Winter Soldier shares the DNA of Sydney Pollack's paranoia-laden chase film. Fully realizing a New Yorker's worst nightmare, CIA librarian Joe Turner a.k.a. "Condor" (a.k.a. Robert Redford) steps out for a sandwich at the local bodega, only to return to an office full of gunned-down coworkers. Turner evades his would-be assassins and sets off on a hunt for answers — a trail that leads him back to the CIA. Redford chews up scenery left and right in Three Days of the Condor, as Faye Dunaway livens up a throwaway romantic supporting role and Pollack pens a love letter to New York City geography. The film's political intrigue might feel dated if it weren't so predictive. Turner uncovers a plot of government interference, shady string pulling, and pure greed. Sound familiar? (Stream on Amazon Prime, Rent on iTunes, Vudu, Amazon, Xbox)
Salt
Overshadowed by the cinematic gravitas of the Bourne franchise, Angelina Jolie's conspiracy thriller played like adrenaline junkie version of The Americans. If Russia dominated headlines back in 2010 like it does today, Salt could have siphoned a bit of that Google juice. Trained to be a child assassin by Soviets, rewired to kill for the CIA, and presently lost in the fog of her own memories, Evelyn Salt's run-and-gun identity crisis is a constant blur. Director Phillip Noyce owns it. Reveals feel like reveals because Salt insists the story beats add up. Ridiculous "Master of Disguise routines," Queensboro Bridge car chases, and Jolie's fortified swagger keep the movie at a constant boiling point. Our critic David Edelstein called Salt "a senseless blast." That's a mission accomplished. (Rent on Vudu, Xbox)
Foreign Correspondent
Based on journalist Vincent Sheean's memoir, Hitchcock's dashing tale of espionage depicted a world on the brink of war, released in 1940, while the world was in the throes of war. Joel McCrea's Huntley Haverstock dodges shootouts, brutal attacks, and survives a plane crash to uncover the Universal Peace Party's plot to ignite World War II. One of Hitchcock's most kinetic efforts, the director rolled cameras on Foreign Correspondent as Hitler rose to power. The film's bouncy beginning zips along into darker territory as Hitch's plotting rubs shoulders with reality. It's still dazzling — the combination of rear projection and physical effects during the plane crash remains a spectacle — but there's also a gravity to Foreign Correspondent's drama that the director's revered thrillers can't muster up. (Stream on Hulu Plus)
Hopscotch
What if Edward Snowden's whistle-blowing was a madcap, globe-trotting caper comedy? While most conspiracy thrillers of the '70s portrayed their victim leads in David versus Goliath scenarios, Poseidon Adventure director Ronald Neame's 1980 film flipped the power positions. Walter Matthau stars as Miles Kendig, a counter-intelligence agent grounded by his superiors for defying protocol and letting an intercepted Russian spy off the hook. Confounding bureaucracy finally pushes the spy over the edge. To retaliate, Kendig disappears with a plan to publish a tell-all book exposing the CIA, FBI, and KGB's slimiest tactics. What transpires is a game of cat and mouse, Matthau's wry Kending one step ahead of his boss (Ned Beatty) and protégé (Sam Waterston) at every moment. Hopscotch isn't your typical Criterion Collection inductee, but then again, it's not your typical anything. Anti-establishment, slapsticky, and suave, Neame gracefully pairs a dire world view with laughs. Even Snowden-types enjoy a good chuckle (Stream on Netflix, Hulu Plus, Rent on iTunes, Vudu, Amazon)
All the President's Men (Rent on iTunes, Vudu, Amazon, XBox)
The Bourne Identity (Rent on iTunes, Vudu, Amazon, XBox)
The Bourne Supremacy (Rent on iTunes, Vudu, Amazon, YouTube, XBox)
The Bourne Ultimatum (Rent on iTunes, Vudu, Amazon, XBox)
The Boys From Brazil (Stream on Netflix)
Conspiracy Theory (Rent on iTunes, Vudu, Amazon, XBox)
The Constant Gardener (Stream on Netflix, Rent on iTunes, Vudu, Amazon)
The Day of the Jackal  (Rent on Amazon, Redbox Instant)
Foreign Correspondent (Stream on Hulu Plus)
The Ghost Writer (Rent on iTunes, Vudu, Amazon)
The Interpreter (Rent from iTunes, Vudu, Amazon, Google Play)
The Manchurian Candidate (1962) (Rent on Vudu)
The Manchurian Candidate (2004)  (Rent on iTunes, Vudu, Amazon, Xbox, Redbox Instant)
Marathon Man (Stream on Netflix, Amazon Prime, Rent on iTunes, Vudu, Amazon, XBox)
Minority Report (Rent on iTunes, Vudu, Amazon, Xbox, Redbox Instant)
JFK (rent from iTunes, Vudu, Amazon, Xbox, Redbox Instant)
The Pelican Brief (Rent on iTunes, Vudu, Amazon, Xbox, Redbox Instant)
The President's Analyst (Rent on Amazon, Xbox, Redbox Instant)
Seven Days in May (Rent on iTunes, Vudu, Xbox, Redbox Instant)
Syriana (Rent on iTunes, Vudu, Amazon, Xbox, Redbox Instant)
The X-Files: Fight the Future (Rent on iTunes, Amazon, XBox)
Z (Rent on iTunes, Amazon)