Brienne of Tarth Is Joining Hunger Games: Mockingjay Part 2
The actress is, anyway.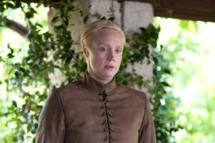 Gwendoline Christie, also known as Brienne of Tarth, the fearsome warrior from Game of Thrones, will replace Lily Rabe as Commander Lyme in the final installment of Hunger Games. Lyme is one of the (spoiler alert) rebel leaders, so it is sort of like Brienne is just teleporting into Panem? Not that that is a bad thing.