Game of Thrones' Gwendoline Christie Is the Biggest Brienne-Jaime Shipper of Them All
They're real, and they hate Cersei.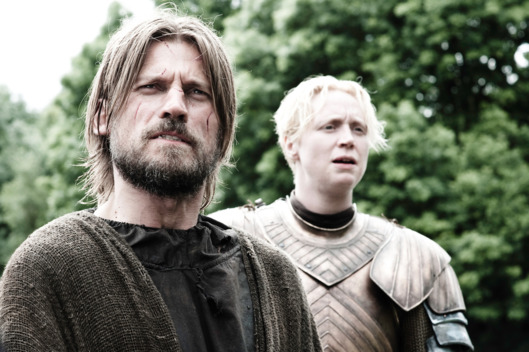 In all the hubbub surrounding the big event that happened on Game of Thrones on Sunday, some interesting, quieter moments at Joffrey's wedding might have been overlooked. For instance, there was that conversation between Cersei and Brienne about their mutual interest in Jaime — a discussion that doesn't exist in the books, mostly because the Brienne and Jaime of the novels don't return to King's Landing until after Joffrey's wedding. As they tend to do, the confrontation with Cersei left Brienne uncharacteristically speechless. "When Brienne gets in situations that she finds awkward, that she doesn't naturally know how to navigate, that's her most painful thing," Gwendoline Christie told Vulture at the season four premiere party a few weeks back. "When Brienne is being a knight, she's confident. But a war of the mind? A war of words? That's where she feels at sea. That's internal turmoil for her."
Brienne-Jaime shippers — and yes, there are many of these sorts — should take consolation that just because Brienne didn't say anything doesn't mean she doesn't feel anything for the one-handed Lannister man. And if anyone is rooting for the Brienne-Jamie relationship to take more shape, it's Christie, the biggest Brienne-Jamie shipper of them all. "Oh my goodness, yeah!" she laughed. "I love that relationship! What I love about it, from the perspective of an actor, is we're just seeing a relationship between a man and a woman that's based on a mutual but begrudging respect. That's what it's borne out of. It's not sexually motivated. It's not materialistically motivated. And they have a shared experience, and they've bonded over issues."
Whether anything further can happen between the two characters, Christie noted that "it's definitely refreshing," especially in a world where values like true love, friendship, and justice seem as fleeting as happiness at a Westeros wedding.