Brooklyn Nine-Nine Bumps Scully and Hitchcock Up to Regulars
It's probably the ones you think.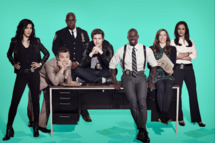 If you like your old guard a-stumblin' and your veteran law enforcement a-bumblin', you're in luck: Brooklyn Nine-Nine will feature Detectives Hitchcock and Scully as regulars during the show's upcoming second season. As you well know if you've watched them in inaction, Joel McKinnon Miller and Dirk Blocker's droopy, good-natured weirdos have been a constant, frequently disgusting highlight of the Fox sitcom. Maybe now Scully will finally make enough take home pay to have that anal canyon filled in once and for all, god bless his gross heart.