Captain America: The Winter Soldier Soars at the Weekend Box Office
There was really no contest.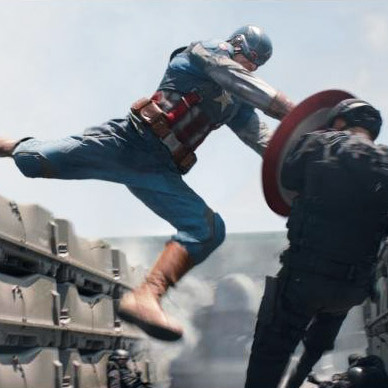 It's no surprise that Captain America: The Winter Soldier had a very successful opening weekend, bringing in $96.2 million domestically. In fact, it was such a great opening that it knocked "all previous daily and opening weekend April records previously held by Fast Five in 2011" away, according to Deadline. Marvel Comics' heroics also brought in another $178 million abroad, putting the movie's current cumulative haul at $303.3 million.
Last weekend's winner, Noah, dropped to second place, adding $17 million to its pot for a two-week total of $72 million. Naturally, the number one movie before that, Divergent, fell to number three. The YA adaption has raked in $114 million in three weeks, only $13 million of which came from this weekend. God's Not Dead continues to surprise as it hangs on to its spot in the top five. This time, the Christian-friendly flick made $7.8 million for a three-week total of $32.6 million. There's a tie for the fifth most profitable movie this week, with Muppets Most Wanted and The Grand Budapest Hotel both bringing in an estimated $6.2 million. While the Disney franchise has made $42.3 million in three weeks, Wes Anderson's latest made its cumulative $33.6 million five weeks out. Just goes to show that all's fair in love and filmmaking.