What Were People Saying About Colbert When His Show Debuted in 2005?
"The hard truth is, every show doesn't merit a spinoff."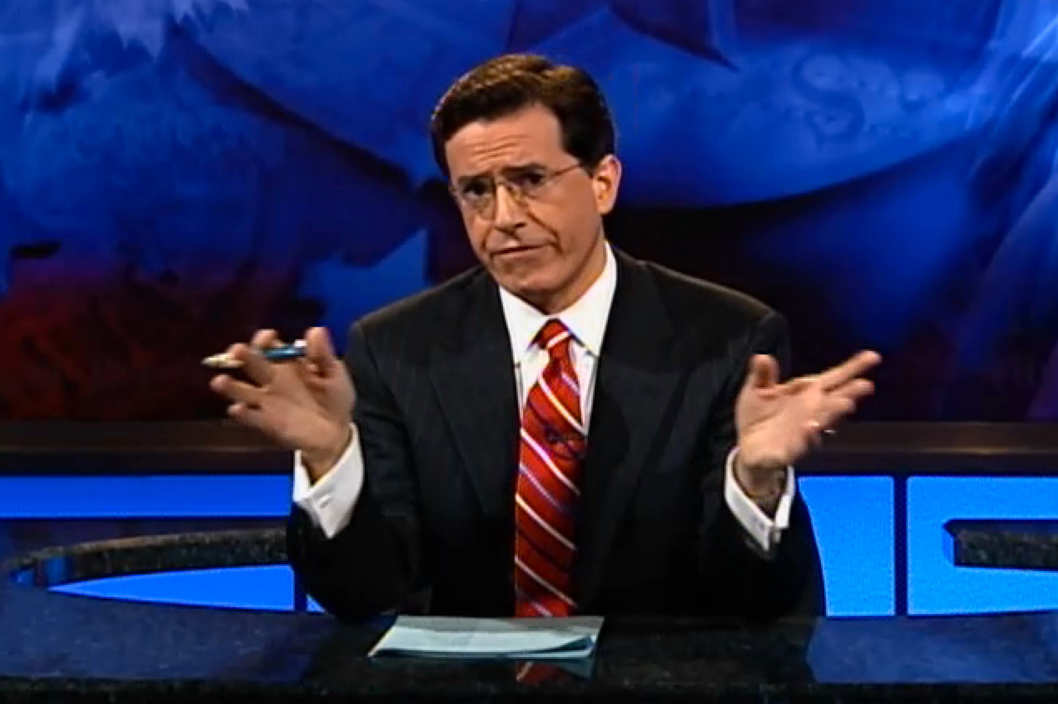 The internet can't handle change, but it loves any excuse to complain about it. Yesterday, after CBS averted a year of hosting duty speculation by announcing Stephen Colbert as the heir to David Letterman's Late Show throne, critical voices immediately jumped into action. Responses ranged from shock to gushing to sympathetic tips of the hat toward Late Late Show host Craig Ferguson to much-needed Colbert Report tributes to the inevitable speculation and fearful cries. 
CNN and Vanity Fair both worried that a network talk show will neuter the "once-removed antagonistic persona of his Comedy Central blowhard." Deadline compared Twitter, Facebook, and YouTube numbers to his competition, wondering if he had the social media momentum to make Late Show a contender. Chicago Sun-Times echoed a reasonable sentiment: Colbert was another white man in a landscape in need of diversity. Right-wingers are equally miffed; The New York Post says "millions of conservatives won't be watching" when Colbert, who's "only funny if you accept the premise (conservatives are morons) while you snort Mountain Dew out your nose," takes over for Letterman. Rush Limbaugh lambasted the network for its declaration of war: "No longer is comedy going to be a covert assault on traditional American values, conservatives, now it's just wide out in the open. What this hire means is a redefinition of what is funny and a redefinition of what is comedy."
The Colbert Report debuted on October 17, 2005, a year before Twitter turned pop culture milestones into a smorgasbord of brain-to-page opinions. And while few media outlets took to their new-fangled web pages to play soothsayers for the Daily Show spinoff, the debut of Colbert's show saw similar excitement, feedback, and beady-eyed skepticism toward the potential longevity of his comedic platform. "SOME people are just born to be second bananas," wrote the New York Post two days after the premiere. "This is not necessarily a bad thing, unless you feel that you were born to be the top banana."
Collected below are a few of the initial reactions to The Colbert Report. One detail every critic felt compelled to weigh in on? Pronunciation. Audiences in 2015 should have an easier time pronouncing "Late Show" than they did "Report."
"Even though Mr. Colbert stays in character — a smug, bombastic and ultrapatriotic cable news commentator - he packs more wit and acid commentary in 22 minutes of his one-man show than multiple skits by the entire cast of SNL […] His sendup of the Bill O'Reilly/Joe Scarborough/Aaron Brown persona is very funny, as are the show's Fox News-ish graphics of swirling American flags and screeching eagles. But what puts Mr. Colbert over the top is that he is not just impersonating well known television personalities, he also uses parody to score larger points about politics and the press." —Alessandra Stanley, the New York Times
"I find Colbert both exhausting and refreshing. His voice is insistent, and he wears a frown most of the time; he modulates his comments not by changing his tone of voice but with body language, so it's a bit much on your ears […] For all the delightful wordplay and nonsense, Colbert comes across pretty stiffly much of the time, because he remains in character during the whole show. There's not a lot of breathing room, or room for any real seriousness, as there is on Stewart's show. Colbert is very skillful at parodying people who are already parodies of themselves, and his show is a lot sharper than most of what passes for comedy on TV." —Nancy Franklin, The New Yorker
"Someday TV will learn that it is, indeed, possible to have too much of a good thing … In just two weeks on the air, this half-hour spoof of a no-spin-zone type show has already stretched Colbert's character and the artifice that supports it past its natural breaking point […] I can't help thinking that Colbert's time would be better spent back on The Daily Show. The hard truth is, every show doesn't merit a spinoff, and every supporting actor doesn't merit a show." —Robert Bianco, USA Today
"The Colbert Report is kinda akin to watching Attack of the Killer Tomatoes (a spoof of 'B' movies) instead of watching the bad 'B' movies in the first place. I don't usually need an interpreter to tell me what's absurd and funny, and that seems to be the direction Colbert is heading. Bad move." —Linda Stasi, the New York Post
"But by its very nature, the position Colbert occupies — the butt of his own show's joke — seems more difficult to sustain than Stewart's role as the eternal observer." —Dana Stevens, Slate
"Whether Colbert can sustain this schtick night after night, four days a week, remains to be seen. Unlike Daily anchorman Jon Stewart, he's not only ridiculing the headlines but mocking himself. This is closer to acting than comedy, and it may be tougher. But Stephen Colbert is a great American and deserves our support. And suppore." —People
"On his own, though, Colbert has no tether to reality and is left to shoot out of orbit. When he introduces guests and the audience applauds, he raises his arms in the air and runs around the set, taking a victory lap. It was funny on the first night. It was tedious by the fourth." —Stephen Kiehl, the Baltimore Sun
"Not only does Colbert maintain his persona without skipping a beat throughout the entire show, but he's got great comic timing, the show's writers are brilliant, and the whole thing is pure foolish, bizarre, idiotic fun at Bill O'Reilly's expense. And is there any better kind of fun than that?" —Heather Havrilesky, Salon
Adding a taste of what Twitter would have sounded like if it was around in 2005, the TV Without Pity forums:
"This sounds like a back-handed compliment, but anything's got to be better than Adam Carolla."
"I thought the show was terrible. Does Stephen Colbert really think those jokes are funny?"
"Hysterically funny ... It took CC this long to put Colbert on? How many years of Colin Quinn did we suffer?"
"I don't think the show will last: It's funny, but not that funny. I imagine, when things quiet down al little, that the repeats of the daily show will garner higher ratings."
"My expectations for this were really high, and it actually exceeded them! Colbert seems like a better interviewer than Jon, maybe because of his extensive improv experience, or maybe because the guest wasn't plugging anything and so Colbert could just ask crazy, wackadoo questions. (The only bad thing was his godawful Chewbacca impression.)"
"I had my reservations about a full show with this type of O'Reilly parody format, but that was brilliant. This may end up outshining The Daily Show."