Donna Tartt's The Goldfinch Wins the Fiction Pulitzer
Puts the "gold" in <em>Goldfinch</em>.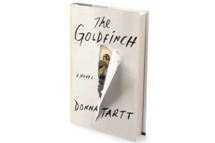 Donna Tartt's much anticipated and then much acclaimed novel The Goldfinch has won the 2014 Pulitzer Prize for fiction. Annie Baker's The Flick won the drama prize, Alan Taylor's The Internal Enemy: Slavery and War in Virginia, 1772-1832 won the history prize, Megan Marshall's Margaret Fuller: A New American Life won the biography/autobiography prize, Vijay Seshadr's 3 Sections won the poetry prize, Don Fagin's Toms River: A Story of Science and Salvation won the general nonfiction prize, and John Luther Adams's Become Ocean the music prize.