Drake Continues to Do Great Things at Playoff Games
Like lint-roll his pants.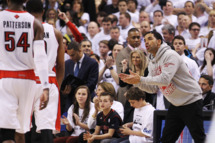 Over the weekend, he made fun of Jay Z with a fondue reference. Last night, swear to God, he started using a lint-roller courtside. Here's the Vine. Why didn't you tell me that basketball games were this fun?