Flowers in the Attic Sequel to Air Memorial Day
Celebrate the holiday with a sordid TV movie.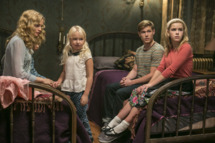 What better way to celebrate our nation's military veterans than by watching a sordid TV movie in awkward silence with them? Lifetime plans to debut their adaptation of Petals on the Wind, V.C. Andrews's sequel to Flowers in the Attic, on Memorial Day May 26. The network is also developing the series' subsequent sequels If There Be Thorns and Seeds of Yesterday, as well as Andrews's stand-alone novel My Sweet Audrina, which we can only assume will be released on Independence Day, Veterans Day, and Martin Luther King Jr. Day, respectively.