Freud Drama in Mom — Uh, Development
For some reason, he's a criminal profiler?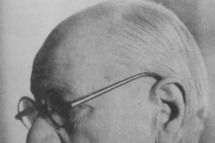 There's a Sigmund Freud drama in the works, but apparently the birth psychoanalysis is not enough to hang a show on: Freud: The Secret Casebook will turn Freud into a criminal profiler, because everything has to be a cop penis. Show! Cop show! The Secret Casebook, which is still in its early stages of development, is "set in the glittering, but volatile world of early 20th century Vienna [where] Freud will use his startling new theories about psychology to help solve crimes," and should the series air, it will "blend episodic murder mysteries with the on-going story of Freud's tangled and provocative personal life," according to the production company. The series comes from The X-Files' Frank Spotnitz and Star Trek's Nicholas Meyer, so it could be a cool twist on "profiler" show. But sometimes a procedural is just a cop procedural.