Gloria Estefan Musical Coming to Broadway
Expect <em>On Your Feet</em> in 2015.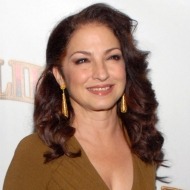 A wise woman once sang that the rhythm was gonna get us. Apparently, Gloria Estefan was right, because her infectious beats will be coming to Broadway next year. According to the New York Daily News, the bilingual musical On Your Feet will cover Estefan's early years in Miami, her near-fatal 1990 accident and subsequent recovery, and long dance-music career.
Even better, a related reality TV show is being produced to capture the stage production's international search for the two actresses who'll play a teen and twentysomething Estefan. "It's going to be daunting, but I have no doubt whatsoever that we are going to be able to do it and so much fun to be a part of the processes," the singer said of her new project. Can't say she didn't warn us.