Scarlett Johansson and Lupita Nyong'o in Talks for Disney's Jungle Book
Lupita will be a mother wolf and ScarJo will be a snake.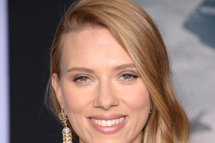 According to THR, Scarlett Johansson and Lupita Nyong'o are in talks to join Disney's upcoming Jungle Book movie, directed by king of the Swingers/soon-to-be Jungle VIP Jon Favreau. (Get it?) The live-action/CGI hybrid is shaping up to have a pretty stacked cast: The two starlets will join Idris Elba, who has has already been cast as the voice of Shere Khan, a man-eating tiger. Nyong'o is in negotiations to play Rakcha, a mother wolf who adopts Mowgli, while Johansson would voice the character of Kaa, a python who eats its victims by hypnotizing them. So, sort of like her recent turn as a seductive, man-eating alien in Under the Skin, only this time she will play a seductive snake who literally eats men. Typecasting!