Mrs. Doubtfire Was the Most Played Movie on Basic Cable in 2013. What Were the Next Four?
Followed by <em>She's All That</em>, <em>Juno</em>,<em> Austin Powers in Goldmember</em>, and<em> Ice Age</em>.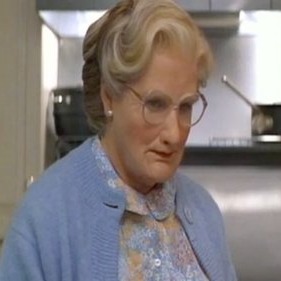 A report by research firm IHS Technology has none other than Mrs. Doubtfire leading a list of top films played on basic cable — repeating 66 times in 2013. As the IHS report reads, "Mrs. Doubtfire continues to be one of the most played movies on TV. Oddly enough, CMT (Country Music Channel) accounts for nearly half of the movie's total basic cable airtime in 2013 as it parents Viacom seeks to bolster its lineup with sure-fire popular movies."
The next four movies on the list? She's All That, Juno, Austin Powers in Goldmember, and Ice Age. In years past, the top movies on basic cable included Groundhog Day, Sweet Home Alabama, Overboard, and Ace Ventura Pet Detective (2012) and Bad Boys, Rock Star, Legally Blonde, and Knocked Up (2011). Surprisingly, none of these lists contained The Shawshank Redemption, so you can stop complaining that it's "always on TV."