See Our Romantic Mad Men Valentine's Day Card Tie-ins to Last Night's Episode
Because in <em>Mad Men</em> world, <em>yesterday</em> was Valentine&rsquo;s Day.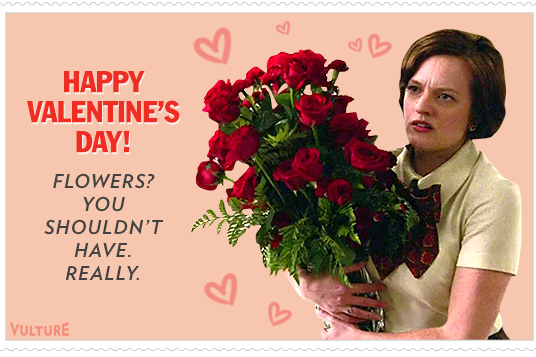 Even though we're already almost into May, Mad Men characters were only just celebrating Valentine's Day last night. Even in 1969, February 14 is the perfect time for each character to announce his or her romantic intentions. Surely Megan got flowers off-camera (because Don is nothing if not romantically reliable, right?), but it was more important for us to see Sally giving her father a quick and unexpected "I love you" as she was getting dropped off at her school. Pete Campbell wooed the real estate agent — or did she woo him? And Peggy had that depressing flowers mix-up, which also tends to happen on the year's most seemingly romantic holiday. To recap where these characters' romantic pairings stand after last night, we made our own helpful Mad Men–themed Valentine's Day cards.