Seth Meyers Will Host the 2014 Emmys
Solidifying <em>SNL</em>'s awards show domination.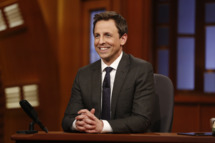 Seth Meyers is having a good day. This morning he was named one of Time's 100 most influential people of the year, and tonight NBC announced that he will serve as host for this year's Primetime Emmy Awards, which are scheduled take place on August 25th. With Tina and Amy hosting the Golden Globes and Meyers helming the Emmys, SNL alums are well on their way to total awards show domination. Now, just let Stefon host the Oscars and we promise we'll never complain about the length of the telecast again.