Parisian Street Artist JR Prepares His First Foray Into Ballet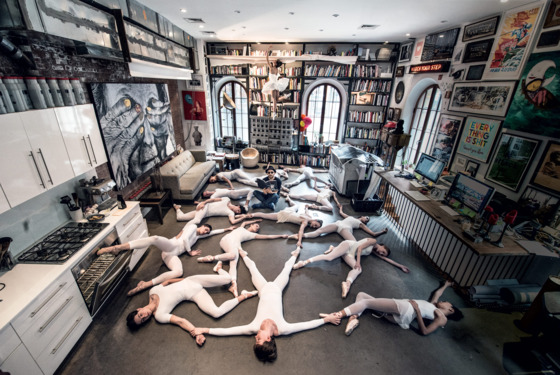 Earlier this year, the enfant terrible photographer who calls himself JR made his New York City Ballet debut, wrapping the promenade of the David H. Koch Theater in an enormous photographic mural. The result has been Instagrammed nearly as often as Ellen's Oscar selfie was, and a relationship with NYCB was born. On April 29, it will bear fruit, as JR's first foray into ballet—a collaboration with the video director and musician Woodkid, with an assist from NYCB's Peter Martins himself—premieres. It's called Les Bosquets, and, he says, it "is about the French riots of 2005. I was even thinking of taking the dancers to the streets of Paris. I am sure that these two worlds that are completely opposite, the projects of Paris and the ballet world, could actually get together." They certainly do cross paths in JR himself, a graffiti brat turned sophisticated photographer, seen here in his lower-Manhattan studio during a rehearsal-happening as he worked out the placement of every graceful, exquisite limb. He couldn't resist putting one dancer's foot in the (cold) oven—or parking himself at the center of the array.         
*This article appeared in the April 21, 2014 issue of New York Magazine.
Photo: JR