Zack Snyder Will Direct a Justice League Movie
As a follow-up to <em>Batman vs. Superman</em>.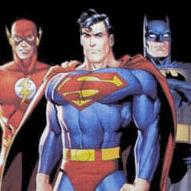 After years of speculation, Warner Bros. has finally confirmed plans for its own superhero mega-film, to be directed by Zack Snyder. The Justice League film, which will be a follow-up to Snyder's Man of Steel and the forthcoming sequel Batman vs. Superman, represents an attempt by Warner Bros. to capitalize on the DC superheroes' shared universe, just as Disney did with Marvel's Avengers (although since the film is unlikely to come out before 2018, they still have some catching up to do). Henry Cavill is expected to reprise his role as Superman, with Ben Affleck and Gal Gadot back as Batman and Wonder Woman. Ray Fisher was recently cast as Cyborg for a cameo in Batman vs. Superman, so there's a good chance he'll show up too. There's no word on whether other DC characters like Aquaman, Flash, and Green Lantern will be invited to join the gang – though, when it comes to superhero flicks these days, the more the merrier certainly seems to be the rule of thumb.